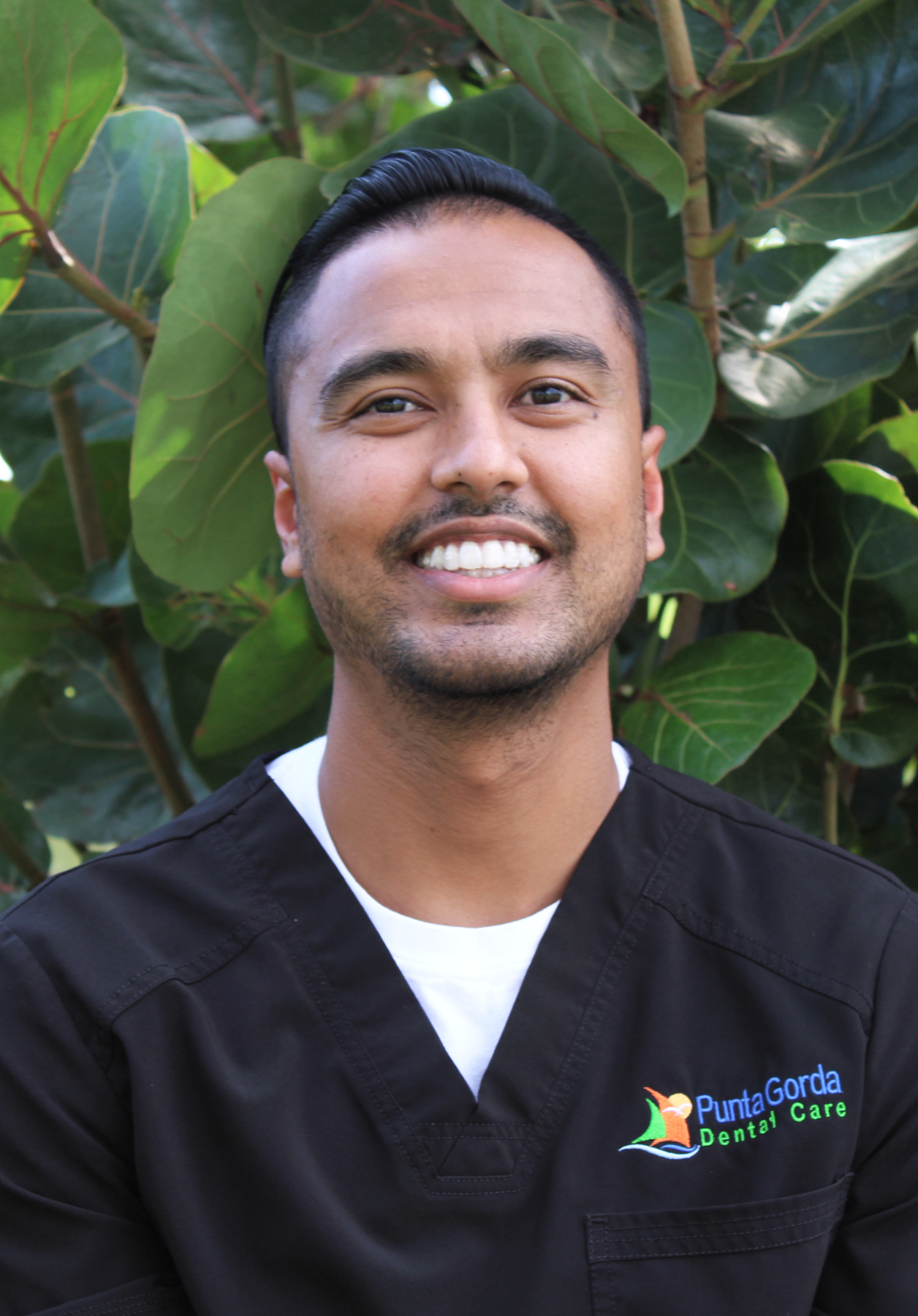 Peter has been with Punta Gorda Dental Care since it started in 2020. He started his career in dentistry in 2016. Peter holds a BA in Biology and a Dental Hygiene degree from Florida SouthWestern State College. A high school teacher who was a retired dentist sparked Peter's interest in the field. Originally aspiring to be an orthodontist, Peter ultimately decided Dental Hygiene was his calling.
Peter's patients appreciate the gentle but extremely thorough cleanings he provides. Treating his patients as partners in achieving optimal oral health, Peter offers suggestions on home oral care best practices. He is dedicated to creating a comfortable, comforting atmosphere to promote positive attitudes about dental visits.
Peter has lived in Cape Coral most of his life. He is the father of one daughter. In his free time, he enjoys spending time with his family, weightlifting, watching football and baseball and playing with his two Siberian Huskies.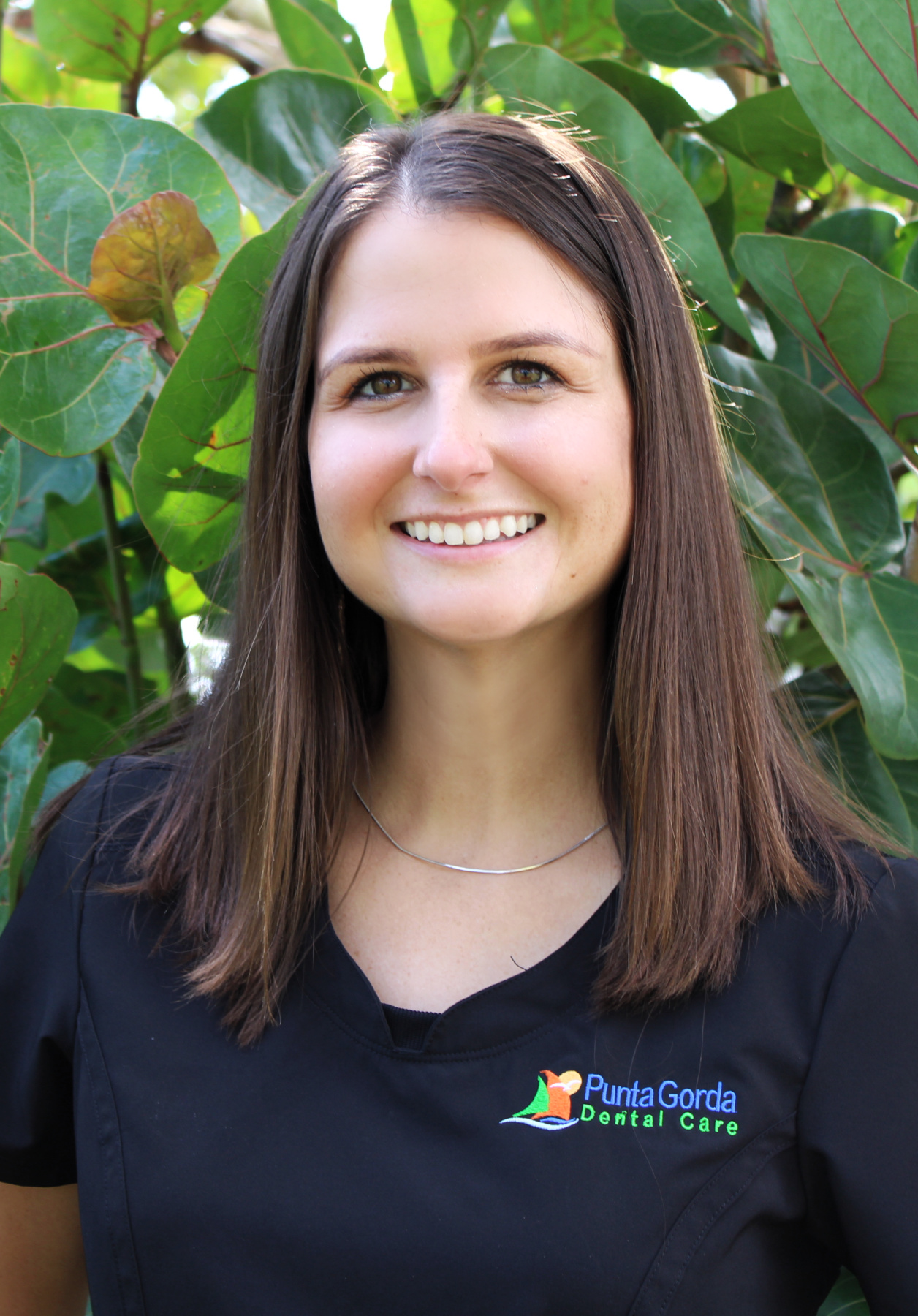 Casey brought 13 years experience in dentistry when she joined the Punta Gorda Dental team in 2022. For the first five years of her career she worked as a Dental Assistant. After earning an Associate's degree in Dental Hygiene from Edison College in 2014, she transitioned to being a Dental Hygienist.
Patients can expect a caring, compassionate approach when they are treated by Casey. Casey is adept at providing an extremely thorough cleaning without compromising patient comfort. Seeing the happy smiles on her patient's faces after treatment is complete is especially rewarding for her.
An Ohio native, Casey left the northern cold for the Southwest Gulf area in 2014. Casey and her husband have two children and a dog. In her free time, she enjoys reading and going to the beach.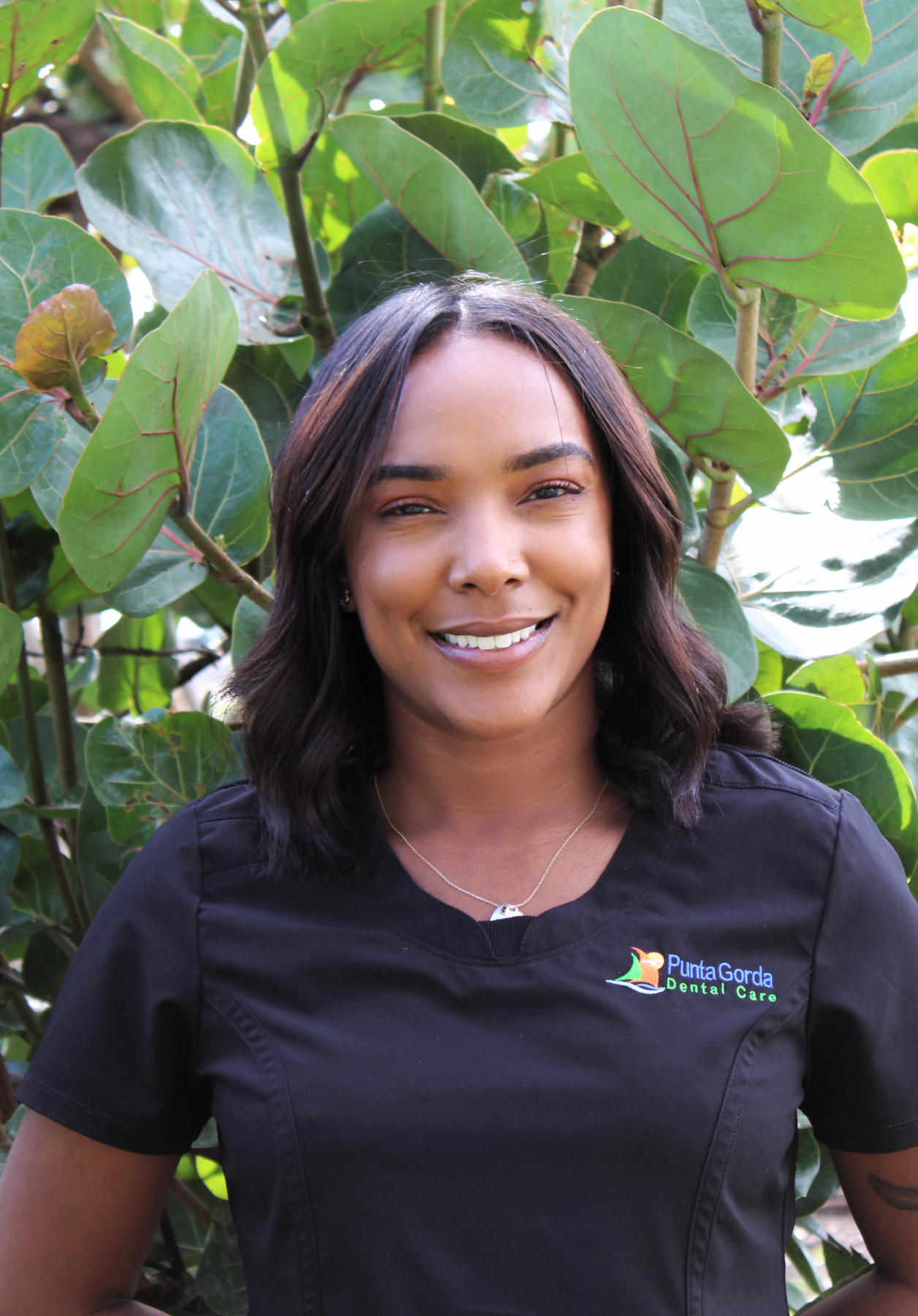 Taiana started her career in dentistry here at Punta Gorda Dental Care in 2020. Her friendly smile and warm manner sets the welcoming, positive tone patients come to expect when they call or visit our office.

She was drawn to dentistry by her desire to help people. Taiana appreciates seeing patients get the smile they want and being happy with the care they've received.

A native of Massachusetts, Taiana has lived in Port Charlotte since 2017. She is a devoted mother who enjoys cooking and taking her daughter to the beach. Taiana is bilingual, she speaks Spanish and English.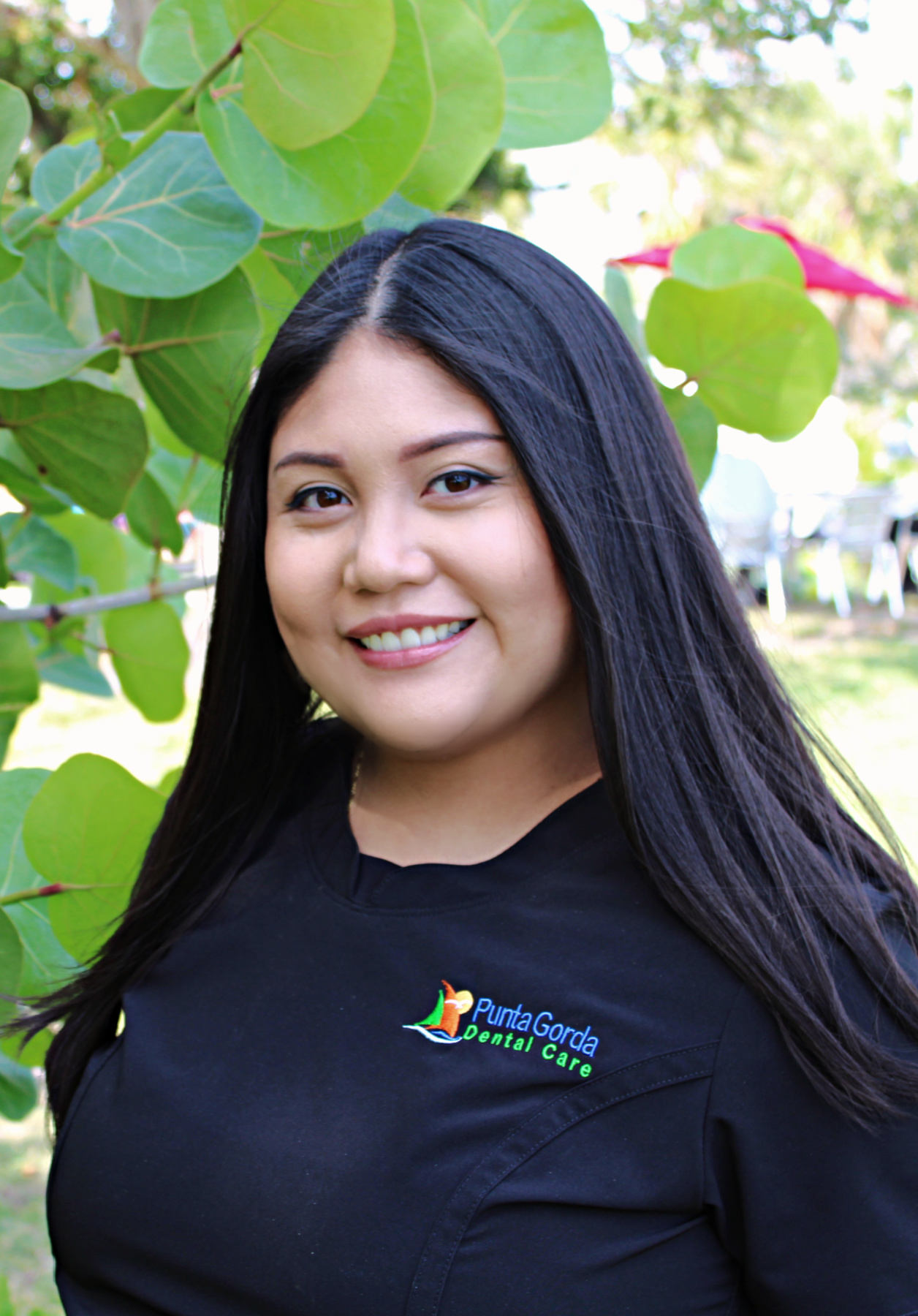 When Elizabeth joined the Punta Gorda Dental team in 2022, she had been in dentistry for 2 years. Dentistry appeals to her because it offers the opportunity be part of helping patients feel good about their smiles and relieving the pain of patients who are suffering.
Elizabeth helps set the tone of patient-centered care by giving patients her full attention, listening with interest and compassion to understand their needs. By helping Dr. Marino stay on schedule, Elizabeth keeps patient wait times to a minimum. Her team mates appreciate her willingness to pitch in and help wherever needed.
A Port Charlotte native, Elizabeth lived in New York City for 6 years before returning to her roots. She makes her home in Port Charlotte with her husband, daughter, and dogs. She enjoys fishing, cooking, going to the beach, and shopping. Elizabeth speaks English and Filipino.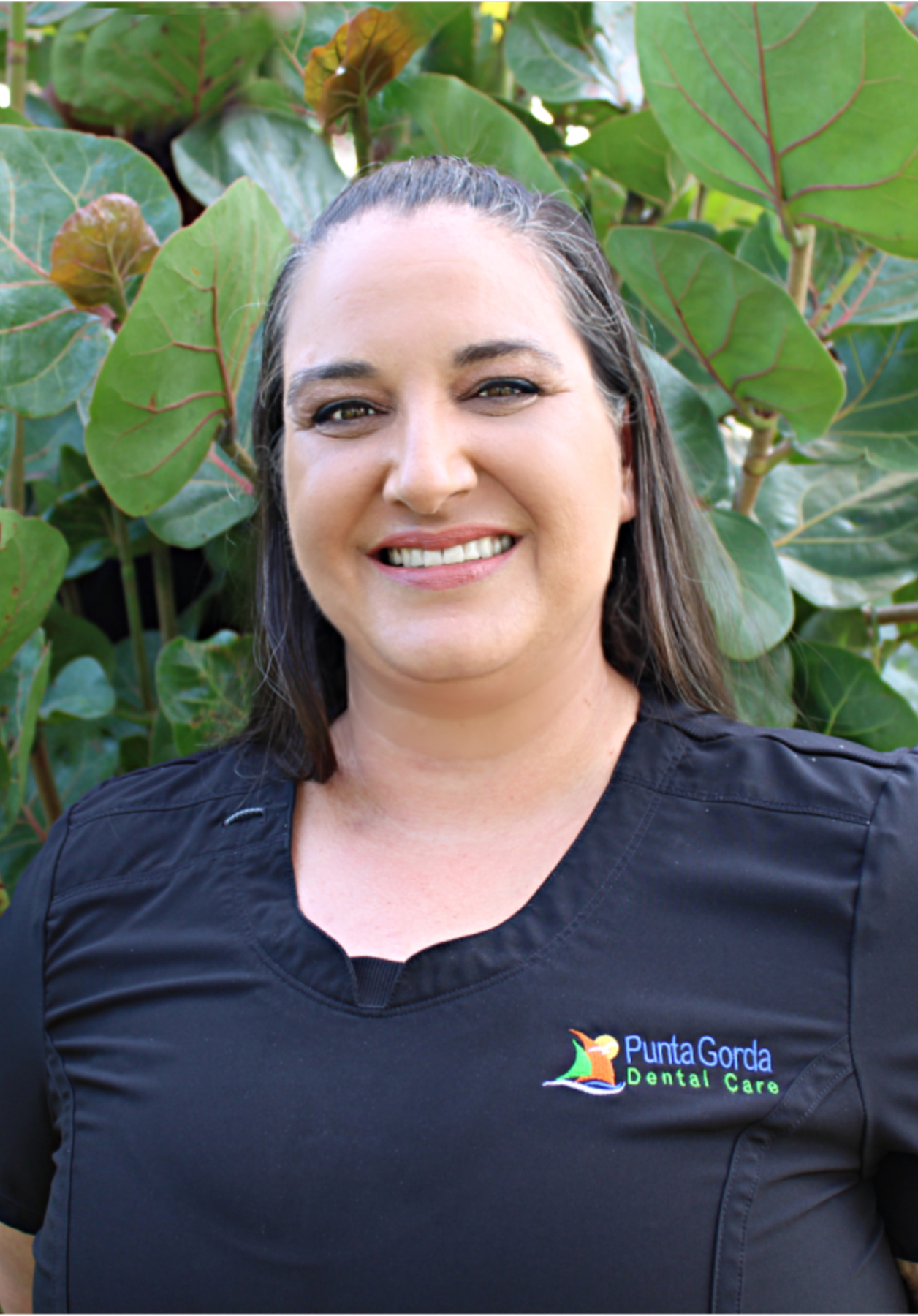 Kellie started her career as a Dental Assistant in 2016 and joined the Punta Gorda Dental Care team in 2020. She was inspired to pursue a career in dentistry after observing the duties of the Dental Assistant while getting a tooth extraction. Her excellent clinical skills and positive attitude led to her being promoted to Lead Dental Assistant in 2021. In this role, Kellie provides direction and support to our Dental Assisting Team to ensure a consistently excellent patient experience . As an Expanded Functions Dental Assistant, Kellie is trained on the full range of clinical tasks required to support optimal patient care.
Compassionate and caring, Kellie empathizes with patients who are nervous or anxious about getting dental care. She is committed to creating a safe and calming environment so patients can relax and get the dental care they deserve. Kellie's sense of humor helps her connect with even the most anxious patients. For Kellie, seeing the happy smiles on her patients when treatment is complete is the best part of her job.
The proud mother of one son, Kellie enjoys spending time with family and friends in her off time. Other hobbies include fishing and bowling. Kellie speaks English and Portuguese.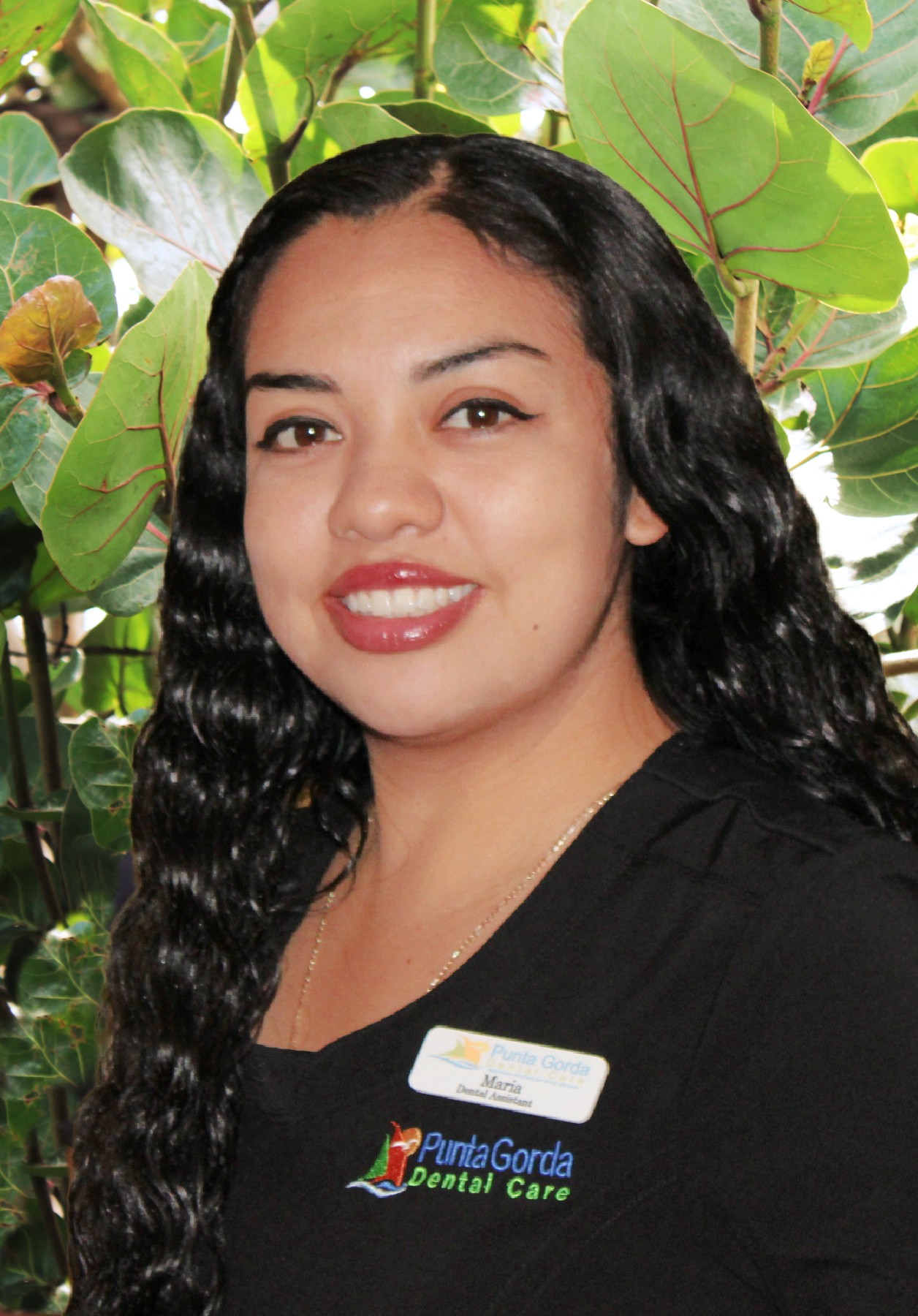 Maria has been in dentistry since 2020 when she joined the Punta Gorda Dental Team. She found her career when a friend convinced her to join in taking a class about dentistry. Maria holds an Associate's Degree from Florida SouthWestern State College. She is certified as an Expanded Functions Dental Assistant. She is also certified in CPR.
Compassionate and non-judgmental, Maria excels at helping patients stay calm during treatment. Maria's greatest professional joy is seeing how patients smile with confidence after treatment. Maria is bilingual, speaking Spanish and English, so she is able to communicate with our Spanish-speaking patients in their native language if that makes them more comfortable.
Maria was born in Mexico and moved the Florida as a young child. She is the eldest of six children. In her free time, she spends as much time as possible with her family and friends. Maria enjoys horseback riding, exercise, and visiting our beautiful beaches. In the community, Maria has volunteered with Habitat for Humanity, beach clean-up efforts, and local charitable events benefiting children.